Izzie Stevens might be back on the market after the
Grey's Anatomy
season finale, but (sorry guys) actress
Katherine Heigl
is officially taken.
The 27-year old is now engaged to singer Josh Kelley, her representative confirmed to People Magazine. No wedding date has been set.
The couple met last year when Heigl appeared in a video for Kelley's song "Only You." The singer was immediately taken aback by Katherine's presence and wouldn't let her go home.
"At the end of the shoot, I said, 'You're gonna go eat dinner with us, and you can't say no.' So we ate, drank and just started hanging out after that," Kelly said of that day.
Kelley recently wrote a tune, "Katie's Song," for Heigl, which the actress found incredibly heartwarming and romantic.
"There is really nothing more romantic than that. It was one of the most thrilling and romantic things that I've ever experienced, and it makes me really like him bad," Heigl said.
Heigl rose to fame this spring as her Grey's Anatomy character, Dr. Stevens, became romantically involved with a terminal heart patient, Denny Duquette, in a plot line that riveted millions of viewers.
She grew up in New Canaan, Conn., and worked as a model before embarking on an acting career. Heigl's first taste of stardom came as another Isabel (Evans) on the WB series Roswell. She has appeared on the covers of TV Guide, Maxim, Teen and FHM. Katherine concentrated on movies for several years after the series' cancellation in 2002.
She last appeared on the big screen in The Ringer (2005), and is now filming the comedy Knocked Up during her hiatus from Grey's Anatomy. While we jokingly reported that Katherine was pregnant due to the nature of that role, is an actual baby on the way now that she's getting hitched? We'll see.
A native of Augusta, Ga., Kelley released his debut album, For the Ride Home, in 2003. His second album, Almost Honest, came out last year. His latest, Just Say The Word, is scheduled to hit stores July 24. An emerging, mellow singer / songwriter who maintains a strong following, Kelly has been likened to Ben Harper, Jack Johnson and John Mayer. Visit his official site!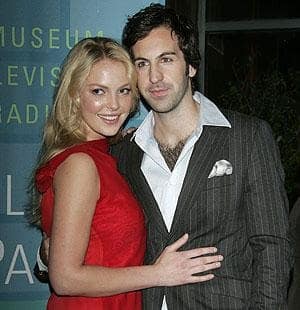 Congratulations, Katherine!
Steve Marsi is the Managing Editor of TV Fanatic. Follow him on Google+ or email him here.