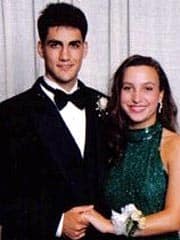 Taylor Hicks has always been a charmer... even way back in the day when he had brown hair.
At least according to Brooke Kelley Campbell, who dated the American Idol star and took him to her senior prom at Hoover High School in Birmingham, Alabama. Hicks' former girlfriend reflected on her time with the newest Idol singing phenom in an interview with People Magazine.
"Taylor was a fashion guy and he wanted to make sure that he matched my gloves and all that. My dress was green, and his tux was like a crisp green and navy plaid," said Campbell, now 29 and married, living with her husband and 18-month-old son in Roswell, Ga.
At the prom, Hicks was the center of attention, showing some signs of the choreography that helped him shine on American Idol, where he edged out Katharine McPhee to win the fifth season's top honor.
"[Taylor] was such a good dancer. He did what he called the 'Carlton Dance,' from The Fresh Prince of Bel-Air," Campbell said.
The singer's romance with Campbell lasted well after prom, as the pair dated for about a year. Hicks even went on a family vacation with her to Highlands, N.C., during that time.
"My mom thought he hung the moon. He was one of those guys that, if he was coming to pick me up to go somewhere and I wasn't quite ready, he would sit down in the den with my parents and just talk and talk and talk," Campbell said. "I would come in and say, 'OK, it's time to go. C'mon, Taylor, let's go.'"
It was also hard to drag him away from the basement of one of his friends, an early performing venue for Hicks.
"Taylor would be playing music, and that is just where we would go. Taylor was right in the middle of it. We all went over there because there was going to be entertainment, and Taylor happened to be the entertainment," Campbell said.
Some things never change.
Matt Richenthal is the Editor in Chief of TV Fanatic. Follow him on Twitter and on Google+.