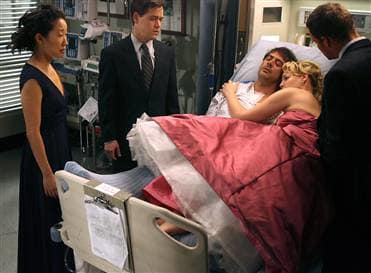 Can
Grey's Anatomy
derail
CSI
on its new night and time, or will the hit medical drama meet a similar fate as the beloved
Denny Duquette
?
That's the question of an MSN.com article previewing the upcoming Thursday night ratings showdown. ABC recently announced that it would move Grey's out of its comfy Sunday time slot to Thursdays at 9, bringing it face-to-face with CBS' monster hit CSI, the most-watched scripted show on television.
With an average audience of more than 25 million viewers per episode, CSI rules non-reality TV. It might not get the buzz of Grey's Anatomy, Lost, 24 or even the Housewives, but people tune in by the millions, and there's no reason to think that's going to change anytime soon. The only show to draw more viewers is the peerless American Idol, which saw its best ratings yet in season five and more than 36 million viewers of its finale.
No one would dare oppose Idol, but ABC sees CSI as vulnerable and senses an opportunity. While it has a standout Sunday night performer in Grey's, ABC believes that by moving it to Thursdays, it can make even more money even if a few million viewers abandon ship.

Thursday night is the gold mine for networks, the night in which all the big advertisers, especially movie studios, engage in a full-court press. Viewers are planning their weekends by Thursday and studios persuade potential moviegoers to see their films with a bombardment of ads.
Movie studios pretty much throw money at networks during those prime Thursday night slots. Let's look at the math:
Grey's Anatomy earned appoximately $325,000 for each 30-second advertisement on Sunday nights.
On Thursdays, ABC can get between $600,000 and $750,000 for that same 30 seconds. Even if fewer folks watch, the numbers add up.
That's from an accountant's perspective. From the programming vantage point, there's great risk involved. Right now, there are millions of TV watchers who tune in to both shows. Now they can only watch one at its scheduled time (while the TiVo crowd is growing, it is coveted less by advertisers). Which show will viewers choose?
Research suggests that Grey's Anatomy and CSI have somewhat similar groups of followers. The Seattle Grace fans are mostly female and in the age demo that advertisers drool over: 18-49. While CSI draws more male viewers and a slightly older audience, there's plenty of overlap.
So what happens if Grey's Anatomy numbers decline in such a way that the show loses its hard-earned buzz? Could ratings drop so precipitously that ABC is forced to yank it from Thursday, losing many viewers for good and making advertisers less inclined to pay as much as when it was on Sunday nights the first time around?
Part of what made Grey's Anatomy a perfect Sunday fit was that it followed Desperate Housewives, a lead-in that helped turn the medical show into a giant. Airing on the weekend also seemed to enhance the personal nature of the show, kind of like chilling with friends Sunday night before getting back to the real world on Monday.
Many guessed that ABC would move Grey's to Monday, where it would replace Monday Night Football (which the network lost to sister station ESPN). By relocating its hottest show, ABC would, in effect, claim Monday as its own and set forth a challenge to the other networks. That would've been a safe and sound move, but networks often forego the conventional route.
By moving the show to Thursdays, the gloves are coming off as ABC has directly challenged CBS to a rumble.
However, if ABC is going to make this bold move, it might as well strike while the iron is hot. While CSI still draws huge ratings, it has fallen 5 percent from the previous year in terms of overall viewers, and 10 percent in the 18-49 demo. Thursday has been a colossal failure for ABC for years, so however well Grey's Anatomy performs, will be an improvement.
ABC remains committed to the move so far, unlike NBC, which announced its fall schedule in mid-May only to call for a do-over a few weeks later.
The network originally had scheduled Aaron Sorkin's highly-touted new show, Studio 60 on the Sunset Strip, for at 9 p.m. Thursday as well. NBC looked ready to battle CSI itself, but once Grey's Anatomy entered the mix, it pulled the plug and shifted Studio 60 to Monday.
Can ABC prevail? It's possible, since Grey's Anatomy is a rising star that reached new highs with a three-part finale to the second season. If it can sustain its popularity, and ABC's new Sunday show, Brothers & Sisters, does well in its old time slot, the network will have pulled off a major coup.
If not, Gil Grissom and friends will have another case to crack: Why would a network suddenly implode one of its best assets?
Steve Marsi is the Managing Editor of TV Fanatic. Follow him on Google+ or email him here.