In the parking lot of a restaurant near the home of
Jeffrey Dean Morgan
, the actor was recently approached by one of his fans.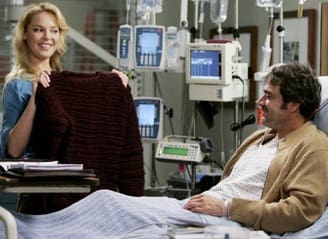 "My wife says you're dying, but you look healthy enough to me," the fan told Morgan.
"You can't die," the man's wife pleaded. "You're too cute to die!"
This conversation, hardly the first of its kind, elicited a good laugh from Morgan, who plays charming heart patient Denny Duquette on Grey's Anatomy. The character has emerged as a fan favorite as he woos the beautiful Dr. Izzie Stevens (Katherine Heigl, above) from his hospital bed while awaiting a transplant.
Not only are Morgan's services winning praise, but they are in high demand -- sometimes for roles that require him to actually stand up and walk, no less. He has appeared twice on the Showtime series Weeds as Mary-Louise Parker's dead husband (via home videos and flashbacks), and plays an MIA dad on the WB's Supernatural, which airs at 9 p.m. Thursdays. Somewhat like Denny, his character is a man targeted for death... only by evil forces.
"It's basically Dad and boys hunting what killed my wife and one of their girlfriends, and trying to bring an end to it," Morgan, who is in talks about returning next season, told
USA Today
.
Whether he returns to the Supernatural set (where he plays John Winchester, below) will depend on -- you guessed it -- the fate of Denny. Soon, the Grey's Anatomy cast will do its read-through of the two-part season finale, and learn the details of the cliffhanger for the first time. Morgan, who turned 40 Saturday, is just hoping to live another season.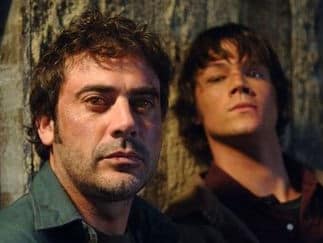 "The last decade has been a little rough, so I'm hoping to start this one on the right foot," he said. "I would bend over backward to be back on Grey's. Any day, I'll choose lying in bed with [Izzie] looking over me over getting thrown against walls by supernatural persons at 5 in the morning."
The Insider finds it hard to argue with that logic. Morgan is enjoying his first taste of true fame despite a successful career as a working actor, which included regular roles on UPN's The Burning Zone (1996-97) and CBS' The Handler (2004). Directors have told him he has a certain level of maturity that makes him a hot hot commodity.
But, like Denny, it could be curtains for Morgan at any minute.
Lately, Morgan has been getting encouraging words and pats on the back from Grey's co-stars at every read-through, as they collectively worry each that episode will be his last. He has, understandably, become particularly close to Heigl. Any chance their on-screen spark could carry over to real life?
"Katie's one of my best friends. I love her to death, but she's got a great boyfriend. And you shouldn't date your co-stars. It's never a good idea," Morgan said.
So what is he looking for in a mate?
"Well," he said, smiling, "someone to laugh with. And fidelity would be nice."
Amen to that, and here's hoping that Denny can get himself that transplant. Paging Dr. Burke!
Steve Marsi is the Managing Editor of TV Fanatic. Follow him on Google+ or email him here.